NEW YORK - New York Knicks team president Isiah Thomas is accused of sexual harassment and discrimination by one of the team's former front-office employees in a federal lawsuit.

Anucha Browne Sanders claims Thomas made unwanted sexual advances toward her and refused to stop, according to the lawsuit filed Tuesday in federal court in Manhattan. Thomas and Madison Square Garden are listed as the defendants in the lawsuit, which charges them with sex discrimination and retaliation.
I don't even know if Anucha is a chick. I'm assuming so, that sounds like a chick like name.
Anucha Sanders is a liar. Isiah Thomas didn't harass her. Isiah Thomas is a homo. One year he was making out with Magic Johnson and the next year, Magic Johnson announces that he has HIV. That isn't a coincidence.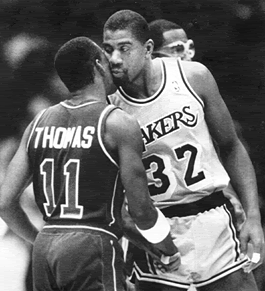 In all fairness to Isiah, I don't think that he gave Magic the AIDs. I don't even think Magic has the AIDs. Magic Johnson is the only AIDs victim that could live for 15 more years and gain 100 more pounds. I always thought that was impossible when your Christ is rejecting the gay part of your body. That's what they taught me about AIDs in church camp. Paco hypothesizes that he was just afraid of Michael Jordan. I think he just didn't like the idea of playing with Vlade Divac any longer.