DALLAS - Former Dallas Cowboys receiver Michael Irvin was charged with misdemeanor possession of drug paraphernalia after Plano police officers searched his vehicle during a traffic stop.
I'm sick and tired of this. I'm mad as hell and I am not going to take it anymore. I'm tired of the metroplex getting black eyes because of the foolish actions of people that think they're great because they wear/wore a faggy uniform. I'm tired of the selfishness. Why do the cops always pick on Michael Irvin? Why?
Yeah so... OK, he was speeding. OK, so he had drug paraphernalia. OK, he has a history of drug use. Whatever. Michael Irvin has won us 3 superbowls. If he wants to walk into a church, punch an old woman in the eyeball, smoke crack in the bathroom with a bunch of "born-agains", and mock Jesus with an end zone dance during the sermon, then you let him. He is one of the most important people in the recorded history of the world. He's even better than Jesus. You can call me a blasphemer all day but I won't hear it. The bible never talks about how Jesus ran the perfect post route to win the game. That's what I thought. Shut up.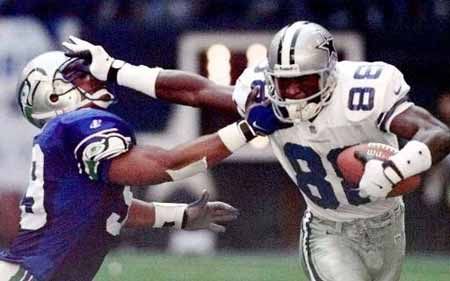 He's awesome. Stop the injustice!