The Dallas Mavericks have beat the two teams that played in the NBA finals last season. They're the only team to do that so far. Everything seemed to work for the Mavs last night. I got pretty drunk while watching the game and I refuse to look up the stats but I believe that every single Mav that played, scored. When the Mavericks play like that, they can beat anybody. Even Erick Dampier, who has been taking a beating by local media, played like he found his nuts again.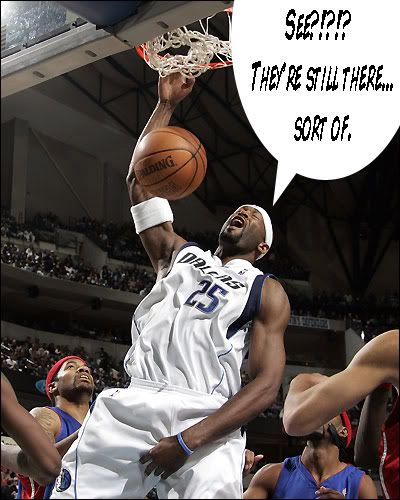 That's good for Dampier but that doesn't wash away the fact that he's still a completely useless pile of vomit. In the playoffs last year,
he had one decent game out of 13
and that shit don't fly. I didn't accept it when it was Shawn Bradley, and I certainly won't accept it from the self-proclaimed "best center in the west". Let us hope that this is a turning point for Dampier. If not, I think Avery Johnson should be allowed to hit him in the nuts with a baseball bat during half time of the next home game.
I'm not going to declare the Mavs the NBA champs just yet. The problem with a lot of sports fans is that they hitch themselves to bandwagons too quick. They start making MVP, championship, and coach firing predictions before the season even starts. I'm just excited by what I'm seeing so far this season. This is different from a few years ago, when the mavs went 14-0 and won a total of 60 games. The depth in this team is unreal. I think we have an even deeper bench than the spurs. I would take my time to explain but every time I talk about the spurs, a part of me dies inside. Well, we do have players, like Keith Van Horn, who seem to get ankle injuries while tying his shoes. I have a solution for that though, velcro.