Team Wilco has a long history of award winning reports on the National Basketball Association. Paco and I pride ourselves in our ability to look at the game through objective eyes. Whether it's suggesting that
Tracy McGrady has shifty crack smoking eyes,
explaining why Erick Dampier makes Shawn Bradley look like Bill Russell
, or
pretending to have conversations with Magic Johnson
, we feel that it is our duty to provide the expert insight that only a couple of mature basketball enthusiast can.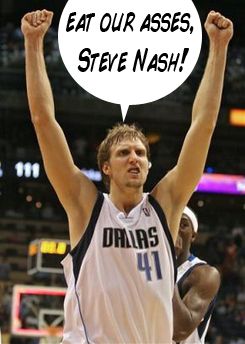 The Mavericks beat the Suns, 111-108, in double overtime to start off the NBA season. The Mavs may not have shown much defensive improvement but they still beat the Suns. The Suns might be an almost entirely new team, with only 2 starters and 4 bench players returning, and no Amare Stoudemire. But you know what? Suck it Phoenix. There are few things that are more satisfying than seeing a home crowd on the brink of tears after my Mavericks hand them a loss. Phoenix didn't disappoint. Yes, I'm still bitter about the Mavs losing in the western conference semi-finals against the Suns.
Watching this game reminded me why basketball is my favorite sport to watch. It's the only thing that can really get any emotion out of me and for the 2-3 hours. It's the only thing that matters in the universe. It's even more important than curing cancer.