I didn't watch a lot of the game. I spent the majority of it driving. I did get to see Billy Cundiff kick a record breaking field goal. I also saw Shaun Rogers jump offsides three times in a row without a call. Officials, he's a 400 pound fat man. When he moves, you see it and feel it in the quakes. I know you're afraid that he'll eat you if you call him out on it but that's part of the job. That's also why you do steroids. Anybody else disturbed by the trend of juiced up NFL officials? I'm old school and I believe that the starting middle linebacker should be at least a little bigger than them.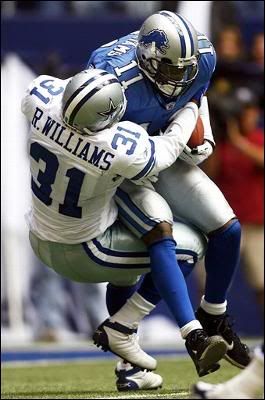 Roy Williams shows Roy Williams what he does to name thieves.
I listened to the game in the car. It seemed like Detroit was trying very hard to lose the game. I believe they were penalized 17 times for close to 130 yards. Considering that, the score should have been much higher for the Cowboys.
I can't believe that I was actually happy to see Billy Cundiff again. I'll admit that I was one of the people that called for his head every time something bad happened. He didn't even have to be involved and I blamed him. Like Bill Parcells, I view kickers to be less than human. However, anybody that can just nail a record breaking 56 yard field goal after being signed the night before is OK in my book. I'm personally absolving him of his previous sins.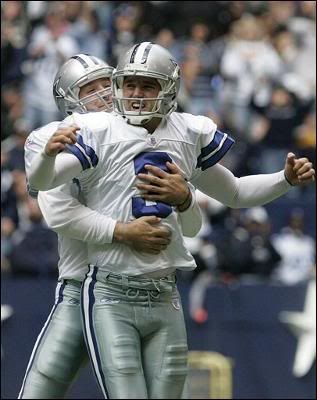 You know what? I just thought of something. Billy? You're a grown up. Why are you still "Billy"? What you did was great and all but when you start thinking of yourself as a big boy, I'll start treating you like a big boy.
Since I didn't watch that much football this week, I'll leave this as my recap. check out
NFL.com
for some good recaps of the games. They always have interesting stats and they manage to stretch "he didn't play well" into 6 or 7 paragraphs.