Hey hey, what about them NFC East division leading Cowboys? Well, what about them? I thought the win yesterday was pretty ugly. The defense played well against a high powered new York offense but allowing 4 sacks and missing two field goals is pretty awful. That's Minnesota Viking numbers.The win last week over the Eagles was complete dominance. This one was defensive dominance but the offense seemed like it was trying to lose the game. The game was pretty good but that's because it was close. This wasn't USC and Notre Dame.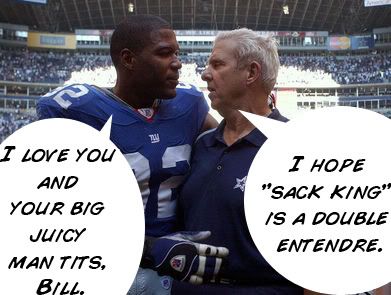 We lost Flozell Adams for the season. I know I give Flozell a hard time about his large amount of penalties at key time but he's still a key member of the offense and he's not replaceable. He's no Larry Allen but most people can reach that level. Larry Allen is awesome and he beats up kickers. That's great.
In other NFC East news...
The Redskins lost to the Chiefs. I didn't watch this game and I don't care. The only thing that I care about is that the Redskins lost. Losers
Washington- 21, Kansas City- 28

The Eagles had a bye. Terrell Owens walked around Philadelphia and randomly shouted, "I'm Great!". Dhani Jones wrote crappy poetry and wore a bow tie.