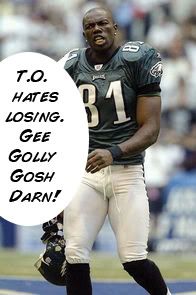 Everything seemed to work for the Cowboys today. It's been a long time since I've seen my hometown team display such dominance. Everyone picked the Eagles to roll through this team like some sort of magical rolling machine that is powered by chunky soup and T.O.'s ego. I had the Cowboys losing 120-102. I probably shouldn't make picks while I'm high and playing NBA 2k6. It's hard to explain why I'm an Eagles fan and a Cowboys fan. I've always been both. I love Donovan and T.O. and Cunningham before them. When push comes to shove though, I back my boys to the death. Considering their recent history with the Eagles, "death" would be the appropriate word.
As I said before, everything seemed to work for the Cowboys today. Drew Bledsoe threw three touchdowns, zero interceptions and he wasn't sacked at all. That's way better than getting body slammed by Warren Sapp. Kicker Jose Cortez made all four of his field goal attempts and managed to not get his face ripped off by Larry Allen. Julius Jones and Tyson Thompson both ran for about 75 yards a piece. Terry Glenn had a great day with 2 touchdowns and over 110 yards receiving. Patrick Crayton had his first ever not-so-horrible day returning punts. The defense held Donovan McNabb and his number one rated passing attack to only 131 yards. Terrell Owens only had 50 yards. The Eagles only rushed for 19 yards. Hell, even Lousaka Polite did something other than missing a block and falling down in pain. Who the hell is Lousaka Polite? I only know him as the guy from Pittsburgh that isn't Larry Fitzgerald.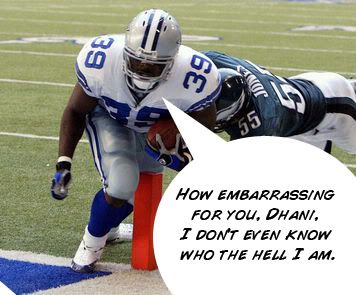 A sad Dhani Jones wrote poetry in his blog
while wearing a bow tie to mask the pain
.
Of course, this victory has some negative side effects. Since the cowboys were so dominant over a much better Eagles team, they're destined to get blown out by the over-rated New York Giants next week. Also, Terry Glenn probably gave a press conference to brag about how awesome he thinks he is while wearing a god awful lime green zoot suit.
In other NFC east news...
The Redskins' super happy fun time awesome pro-bowl defense held Jake Plummer to under 100 yards passing but still managed to lose to the Broncos. Mark Brunell threw for over 300 yards and two touch downs. The mediocre redskins are no longer undefeated. All is well with the cosmos.
Washington- 19, Denver- 21
In New York, Eli Manning recreated Paris with legos while Jay Feely practiced kicking field goals through Michael Strahan's teeth. Jeremy Shockey uttered something racist and Tiki Barber was up all night reading cosmo and calling boys that he likes. They play the cowboys next week at Texas Stadium.

In other NFL news...

In what could be considered an upset, the Cleveland Browns defeated the NFC north top ranked Chicago Bears. The browns beating the bears wasn't the upset. The upset was that fans actually had to watch these two teams play each other.