I'm a firm believer of playing aggressive football. Fourth and 20? Go for it, pussy. However, I'm a Monday morning quarterback and if an aggressive decision turns out to be a bad one, I turn into
Pat Robertson
at an anti-abortion rally. Fourteen seconds left in a tied game, let's just take it to over time and win it then. The Dallas Cowboys didn't think that was a good idea and protested all reasonable thinking by having Drew Bledsoe throw an interception. They furthered their point by allowing Seattle kicker, Josh Brown, to kick a 50 yard field goal.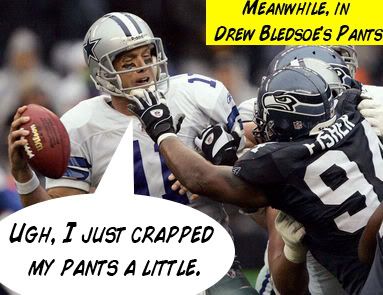 I advocated having Larry Allen beat up Jose Cortez again. There is no need now,
the cowboys released him
. Hasta, loser.
In other NFC east news...
Eli Manning is clutch. I hate the giants and I hate Eli but I can't deny this fact. The broncos have Jesus Christ at quarterback and, as history teaches us, they still couldn't avoid being crucified in the closing seconds of the game.

Denver Broncos-23, New York Giants-24

The Redskins bullied up on the 49ers. That's not that big of an accomplishment. Clinton Portis played well and celebrated one of his three touchdowns by doing a couple of cartwheels in the end zone. Some people might want for our running backs to be like Walter Peyton, Barry Sanders, or Emmitt Smith. Act like you've been in the end zone before and hand the ball to the ref. Me? I'd rather they do the most outlandish things that they can. It's a celebration, bitches. Celebrate.

San Francisco 49ers- 17, Washington Redskins- 52

The Eagles punished LaDainian Tomlinson. He was held to 7 yards rushing. That's more awful than the most awfulest thing ever. LT is sweet and whenever he doesn't play well, which is never, I don't play well, which is always. Some of you might be wondering about what I play. Well, min your business. I know the patriot act allows for people to pry their noses into my life but what I do with a bottle of cheese whiz, two quarts of mayo, and field hockey gear is my own damn business. The Eagles had a damn exciting finish that left me with leakage in my pants. I should probably stop taking morphine during football games.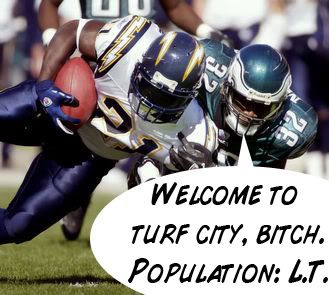 San Diego Chargers- 17, Philadelphia- 20