In the very first play for the Oakland Raiders, Randy Moss raped the cowboys yet again. Kerry Collins hit Moss for a 79 yard reception. While the tradition of Randy giving the shocker to the Cowboys' secondary has been a staple of the NFL since he came into the league, Moss only had 4 catches for 123 yards today. Sure, that's a big number but experts were predicting that he'd have at least 22 catches for 1000 yards and 7 touchdowns. And by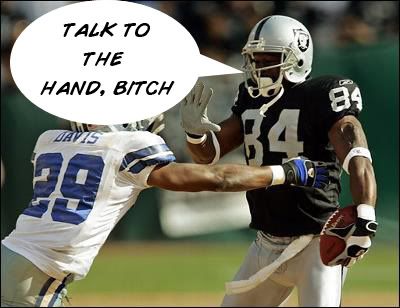 experts, I mean the crazy cat lady down the street who I go to for betting advice. All season long, I've heard people claim that Randy Moss makes everyone else around him better. This might be evident in the clusterfuck that is the Minnesota Vikings but, the Raiders, up to this point, have failed to display this. It of course took my hometown team to verify this theory. Sebastian Janikowski started to actually make field goals and LaMont Jordan, who has had a craptacular season, managed to make the cowboys "eat their lunch", poop it out, and eat it again.
And I don't care what anybody says, Warren Sapp didn't "rough the passer" when he body slammed Drew Bledsoe. That was too awesome looking to be a penatly. I think the NFL officials should take style into consideration before they toss out their flags.
Next week, the Cowboys play the Eagles. That's not even a threat. It's not like the Eagles have a wide receiver on par with a Santana or Randy Moss...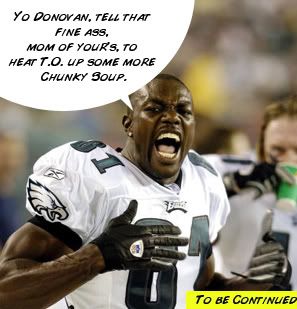 In Other NFC East news...
The Giants out gunned the Rams by 20 points. I guess this Eli kid is for real which means that I must prick him with an AIDs infected needle. Tiki Barber became so bored with the blowout that he queered off with some of his offensive linemen.
Rams- 24, Giants- 44.

In the Bizarro world, the Redskins are still undefeated. They beat the Seahawks in overtime in a game that was surely fixed by my bookie. Team Wilco asked God for a comment but he didn't reply thus proving, there is no God. God wouldn't let a team named after an ethnic slur be undefeated. "Redskins" is very different from the Seminoles, Braves, Fighting Sioux, and Chiefs. All those teams seem to honor the fighting spirit and tradition of our Native brothers while the Redskins honor that they had red skin. Though, the team name is of little importance when compared to their mascot, Sitting Bull the Drunken Injun. In honor of the great traditions of our American Indian brothers, I shall trade the Redskins small pox infected blankets in exchange for their women.
Seahawks- 17, Redskins- 20.

Donovan McNabb and Terrell Owens made the Chiefs, their woman. I don't think the final score truly translates to how well Donovan McNabb played. The Eagles keep claiming that he's hurt but he's had like 3 games in a row with over 300 yards passing. I don't know what type of weird Steve Austin, 6 million dollar man, type of shit they do in Philadelphia but it's working. I don't think it's the chunky soup. The beef sirloin smells like vomit.
Eagles- 37, Chiefs- 31.