Big shock. The Cowboys slapped the Cardinals around for another win. The Cardinals haven't won a game at Texas Stadium since 1989, if you don't count that pesky playoff game in 98. Some new uniforms, a new rookie running back, and Kurt Warner riding the pine hasn't changed the fact that Arizona seems to prefer to roll around in their funky mediocrity. Anthony Henry even ran an interception back for a touchdown. The Cowboys haven't had one of those since Mario Edwards was playing for them. Rookie running back Marion Barber ran for about 125 yard and two touchdowns. Quite impressive for a guy that was either 3rd or 4th string at the start of the season. Before we start sucking his dick and declaring him the second coming of Tony Dorsett, it should be noted that these numbers were against the Cardinals. The Cardinals suck. When he starts getting those numbers against defensive power houses like Washington, Chicago, and Ben Wallace, then maybe we can discuss the possibility of he and Julius Jones in a position battle. Until then, all you band wagon jumping choads can enjoy his feat and this win. I think the highlight of this game was Roy Williams whacking that big dumb animal Josh McCown. Sure, Josh got the pass off for some major yardage but that was awesome. It was like Roy was shot out of a blitzing cannon. Some people argue that McCown is a tough, athletic quarterback that is growing into a decent threat. I argue that he's a big dumb animal with an accent.
In other NFC East news...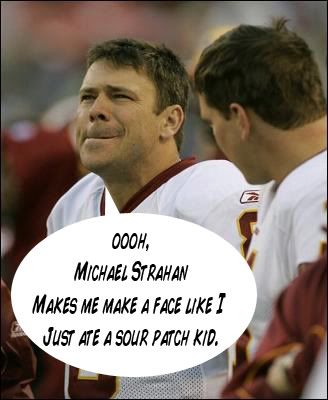 The Giants completely dominated the Redskins. In the wake of Wellington Mara's... umm, wake, the Giants stepped it up a notch and trashed an eastern rival. Tiki Barber finally proved to me, I'm sure he's been trying really hard to do that, that he's not the effeminate overrated man boy that I call him. Tiki had over 170 yards in the first half and finished the day with a grand total of 206. I'm a man of honor so let me apologize to Tiki. I'm sorry you not overrated but still effeminate man boy. Fuck the Giants.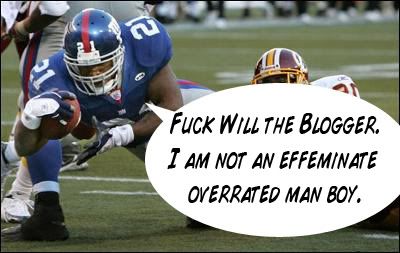 After grounding LT and the Chargers into the ground to make Southern Cali coffee, the Eagles let Jesus and the Broncos sodomize them. Donovan McNabb, who is being held together with some sort of strange mixture of pain killers, duct tape, and chunky soup, didn't complete his first 12 passes. That's a pretty big deal even when you run the ball well but since Andy Reid believes that running is only suitable when it's 3 dollar buffet night at Ping's Golden Egg Roll, this was doubly sucky. McNabb and T.O., who went catchless in the first half and looked to be getting rather pissy, almost made a stellar comeback. Then I took a 20 minute nap and woke up to find that the Broncos won by 25 points. Mike Anderson and Tatum Bell both ran for 100 yards against that "tough" Eagles defense. I'm sure they miss Corey Simon now.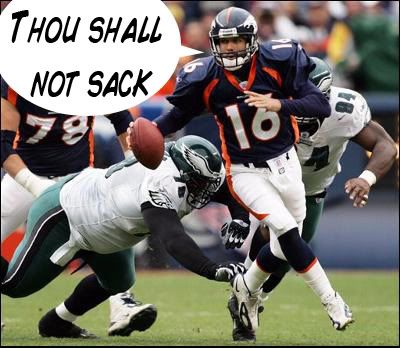 Eagles- 21, Jesus and the Broncos- 49


In other news, Tedy Bruschi made his comeback tonight and he didn't die. That's pretty good, I guess.