I sat down with high hopes that "cowboys" could steal large chunks of land from the hated "redskins" while wearing tight pants. History didn't repeat itself. The cowboys lost to the redskins tonight in a game that gave me indigestion. It may have been the beer and arby's roast beef sandwiches though. With a little under 6 minute
s left, it seemed like the game was going to be marked in the W column. Santana Moss wasn't feeling it. I always liked Santana . I watched him with the hurricanes and as a jet with a lot of admiration. Now that he's a redskin... he can die die die die. Die die die die die. Die die die die die eat donkey dick and die. Die. In a little over a minute that midget caught two bombs to put the Redskins up 14-13. I'm not a betting man but I pick my games every week and act like I just dropped 500 on each. I would have bet all the potential money I won from Sunday on the cowboys tonight. Thank God I didn't do that. It's a shame that I know one or two people that did. Kids, pay your book. Bad shit happens when you don't. I won't put the blame directly on Santana Moss being pretty damn good. Roy Williams screwed up. Now, I love Roy Williams. Hell, I let him cup my cousin's ass once but he's not quick enough to catch up to Santana Moss once Moss is behind him. However, Roy has the ability to hit him so hard that he'd shit out his teeth the next day. I also think that Aaron Glenn shouldn't have tried to pick off that second touchdown pass. He made a play for the ball and not the receiver. Like any good Monday/Tuesday morning coach, I know that move was the wrong move to make. OK, I admit that during the play I was yelling "pick it off" over and over again while spilling my nice light Dutch beer all over my shirt but what the hell do I know? I'm an idiot. And in closing, I hate Flozell Adams.
During halftime, the triplets were inducted into the Cowboys' Ring of Honor. That's great. All of my great childhood memories are saddled with these guys. Seeing Smith, Aikman, and Irvin up on the walls of Texas Stadium reminds me that I'm not a child anymore. I'm an adult now and I vote,
I pay bills, I have illegitimate children and that sucks. It was suppose to be this way. These men lost together, won together, and they have been honored together. It's too bad that I couldn't watch the coverage on any channel. What the fuck is up with that? Some of you probably just think of football as a "child's game with no true heroes". Well, suck my dick losers. You were probably picked on in high school by the jocks. You probably never had sex until you date raped your first college girl. Football is awesome and in this sick sad world, it's all I have, at least until basketball season starts back up. I hope that I live to see another Dallas dynasty happen. I pray that there is a day when we have another set of "triplets" that immortalize our team. I yearn for the chance to hang out with the "wild one" of the group and bump some blow off a stripper's ass. That would indeed be awesome. Viva America's Team.
Also tonight, the New Orleans Saints lost their "home opener" in New Jersey against the giants. I guess somebody out there cares. Right now the Giants are on top of the NFC east. I wouldn't worry though. It's hard to take a team seriously when their Quarterback and backup quarterback will never be half of their older siblings. It's Reggie Miller syndrome.
During the games tonight, I was tempted to call the NFL Hurricane Katrina donation number. I all ready gave most of my money to hurricane relief but I wanted to chat with Donovan McNabb. It would have been sweet. As you may know, I've been trying to become pen pals with an NFL superstar and I figured that Donovan was a nice guy. He might actually be nice enough to put up with thoughtless semi-gay letters from me. I got scared though when I saw John Elway answering phones. I guess Elway was good and all but he looks like he has down syndrome. I don't have anything against our extra-chromosomian brothers but I can't let a retarded guy know that I wanted to talk to the cool kid sitting behind him. He might cry.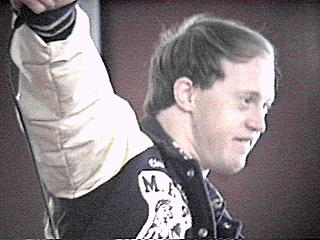 John Elway waits for your call.