The team that won the Michael Finley Sweepstakes is the same team that just won an NBA championship.

Finley told ESPN.com on Wednesday that he has chosen to sign with the San Antonio Spurs, spurning a richer offer from the Miami Heat and the lure of an emotional return to the Phoenix Suns to reunite with close friend Steve Nash.
Well, I told you I'd do it.
I'm going to San Antonio to protest on the Riverwalk. To practice, I'll be at my local supermarket...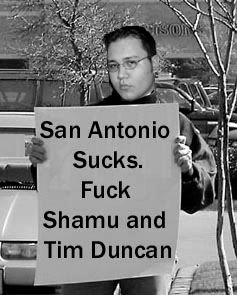 I was hoping that Finley would go to the Heat. The heat even offered him more money but after the amnesty clause cut, money isn't an issue. I guess he wants to Nash it up in a western conference rival and it looks like I have to make a new voodoo doll.