Tonight's monday night football game was between two teams that I love. I've always been a closet Eagles fan since the first time I watched Randall Cunningham be completely bad ass. He was like a black ninja dude dressed in all green. I like ninjas and I like the color green. In my opinion, the Falcons are the most exciting team to watch. Michael Vick can't possibly be human. I love to take non-football fans and show them Mikey Vick highlights. Soon after that, I notice their panties are wet and it's about time to shove parts of my body into their mouth. Yeah, scrambling QBs gets the ladies hot and bothered.
It was also pretty sweet to start the game with a brawl between two good ol' Texas boys.
I have to question the sanity of Kevin Mathis though. Jeremiah Trotter is 6-1 262 pounds of "kick your ass". Kevin Mathis is 5-9 185 pounds of "not as good as DeAngelo Hall". I'd rather shoot myself in both kneecaps than get into a fight with Jeremiah Trotter. I'm so scared of him that I'm going to start sending him my lunch money. I hope he likes top ramen.
Don't make him angry...
you won't like him when he's gets angry.
The unstoppable Philadelphia Eagles lost to the the ridiculously exciting Atlanta Falcons. I thought the Eagles "Vick-proofed" their defense but as Paco pointed out, "they didn't
Ron Mexico
-proof themselves". Vick managed to trot around the Phili defense quicker than the herpes outbreaks he gives his groupies. In all honesty, if Michael Vick wanted to give me herpes, I'd let him give me herpes. Mikey Vick is fucking awesome.The Eagles did manage to shut him down but Mcnabb seemed to choke. I think he ate too much chunky soup before the game. That "beef sirloin" is disgusting. If Mother McNabb took away my chicken wings and forced me to eat that shit stew, I'd tackle her and dance over her lifeless corpse. Speaking of which...
I need Ray Lewis' address. I decided that we should become penpals. It'll be great. He'd be my best friend and I'd write to him everyday. Ray would come up with a signal for me during games just to let me know he's thinking about me. A real subtle signal like sacking the quarterback. I'm working on my first letter. It will be sent as soon as one of you douchechills give me his address...
Dear Ray Lewis of the Baltimore Ravens,





I think you're great. I like it when you tackle people really hard. One day, a man stopped me and asked for my ID. He was a bouncer at a bar that I frequent. This irritated me because I've been coming to this bar even before I was legal to drink and I've never been IDed. The rage started to take over my body but I managed to calm down by thinking "what would Ray Lewis do? (WWRLD)" So, I tackled him and did the Ray Lewis dance over his broken body. I then yelled at a group of complete strangers and told them that we need 6. They called the cops.





Your Pal,




Will





P.S. I hate when people say that Brian Urlacher is better than you. It makes me want to throw monkey shit at them and make them dance the macerana. Fuck those people.



P.P.S Does Johnny Ogden smell bad? I bet he does.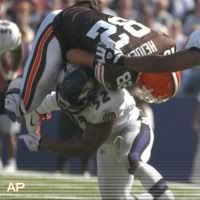 This is why I hope he's my real dad.