BALTIMORE - When Rafael Palmeiro became the fourth player in major league history to collect 3,000 hits and 500 home runs, his status as a future member of the Hall of Fame seemed somewhat secure. That topic is again open for discussion, along with a new one: Palmeiro's credibility.

Five months after telling Congress he never used steroids, Palmeiro on Monday received a 10-day suspension from Major League Baseball after testing positive for a performance-enhancing drug.
I don't have much to say about this. I've always liked Rafeal Palmeiro. That's saying a lot because I tend to hate all baseball players that aren't Roberto Clemente or Ozzie Smith. I met Palmeiro at an autograph signing when I was a kid and he seemed like a nice guy. I also met Pete Incaviglia. Inky was a total dick.
I really hope that this is just a case of a player being unfamiliar with which supplements are illegal. I've heard that may be the case in the string of performance-enhancing drug cases this year. That would be the player's fault. They should learn what is or isn't allowed. I know that when I was the "King of cigarettes and mango cigarillos" when I was working at the Quick Trip, I learned every single rule and regulation. Well, that's to entirely true. If you change the word "rule" to "law" and the word regulation to "hearts" and the word "learned" to "break without a care" then it'd be a true statement.
If Palmeiro is forever linked with Canseco, Giambi, Bonds, Sosa, Bruce Banner, McGwire, and the rest of those roid heads then it would certainly be a sad day. Well, I'd be sad for like a minute or so. I would then realize that channel 27 is running an all day marathon of Cops in Fort Worth and I'd spend the rest of my day looking for my house and/or family.
I think we all know what happened here. It's obvious that a new Oriole pick up has been a bad influence on Rafael. I won't name names but it rhymes with Cosa. That's a soft "C".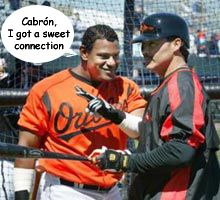 Ah fuck it, Sammy Sosa.
Yes, it was Sammy Sosa.