The great wall of China is a wonderful piece of history that dates back to 400-700 years before Jesus even thought about giving his posse his body and blood. It helped protect China from the Mongolians and the Manchurians. Well, I guess it didn't do that good a job. Despite it's inefficiency at keeping foreigners from taking over, the wall is still a great symbol of Chinese unity and accomplishment. It can be viewed from space. Some people think that means that it deserves even more respect. Whatever, I doubt any space aliens are looking at that thin jagged line and thinking "hey, we better not take over them... they got that wall". They'd just laugh, blaze another space joint, and anal probe another trailer trash jerk off.
Considering the history of the great wall, you'd think that the Chinese would be very careful to not soil it's glory with silly round eye hobbies. You would think...

Daredevil skateboarder Danny Way rolled down a massive ramp at nearly 50 mph and jumped across the Great Wall of China on Saturday, becoming the first person to clear the wall without motorized aid, an event sponsor said.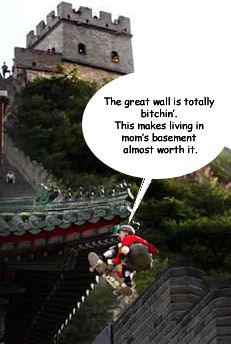 While I'm talking about China, I should bring up my hatred for pandas. I do not trust them. They're cute and cuddly but they're also dangerous. They invite you in with their innocent look and then BOOM, they pop your head off and drink your blood. Don't give me this "99 percent of their diet is bamboo" bullshit. Don't believe that liberal propaganda. They are still bears. Bears eat people. Remember that episode of Yogi Bear when Yogi and Boo Boo ripped off Ranger Smith's leg and ate it? Yeah me neither, that cartoon was lame. I'm fairly sure it happened though. I still think that Pandas are really Chinese spies.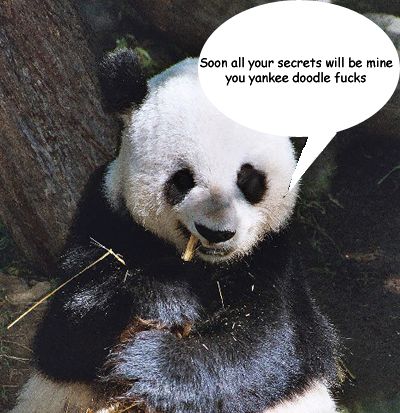 Look at those shifty eyes. It's the eyes of a sawed-off killer.