My younger sister called me a prick for laughing about this. She's one to talk. She tends to find the lamest looking person in a room and picks on them. And, by "picks on them" I mean beat them with an inanimate object...
DAVIE, Fla. -- Miami Dolphins rookie Manuel Wright, who broke down in tears after he was chewed out by coach Nick Saban on Tuesday, missed Wednesday morning's practice to have his ailing back examined.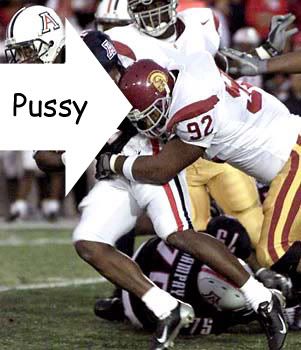 Yes, a grown ass man cried at football practice in front of cameras. Yes, there is video if you follow that link. Yes, it's friggin' hilarious. I don't know what it is but seeing a man that could crush me with one hand cry because the big bad coach said something mean really brightens my day. Cigarettes, booze, and pills help too. Hell yeah, pills. I'm a dolphins fan. It's been very tough being one lately but I have high, but still reasonable, hopes for this year. I don't want my team being tarnished even more by some 300 pound stinky pussy. Contrary to popular belief, I'm not an NFL player, I've never been an NFL player, and I will probably never achieve that goal. I lie sometimes and tell people that I played for the Vikings but it's bullshit. I don't know what kind of mental abuse these guys go through but I doubt it's any worse than that time I got yelled at by a marine drill instructor on the bus one day. I didn't cry. He shouldn't cry. Manuel Wright is fresh out of USC. In the 3 or so years that he played there, did he not once get his balls busted? In his years of pee wee, middle school, high school, and college football has a coach never shit down his neck? The expectations of an NFL player are higher and Wright should have known this would happen. I learned this while playing for the Vikings back in 99. Randy Moss once kicked me in the nuts because I threw an interception in a pre-season game. Later, he confessed that he did it because he just likes kicking people in the nuts. Randy Moss can do that. He's fucking awesome. So, in conclusion of this very clouded poor excuse of a post, since the big giant man isn't close enough to rip me in half and drink my blood fresh from my body... Manuel Wright is still tit fed.
Boo-fucking-hoo.