I don't know this guy. I don't know his politics. I don't even live in that state. Hell, I couldn't even give a shit. I just know that if you live in Western North Carolina. You shouldn't vote for Heath Shuler. Eh, what's the use? It's not like any of you people actually vote.
CHARLOTTE, N.C. (AP) -- Former National Football League quarterback Heath Shuler plans to run for the U.S. Congress.

Shuler, 33, a Democrat, said in a statement Monday that he has filed papers with the Federal Election Commission that clear the way for him to run next year in the 11th Congressional District for the U.S. House of Representatives seat held by Republican Charles Taylor.


"Far too many families in western North Carolina are struggling to earn a decent living, educate their children, and pay for health care," Shuler said. "Congress is spending too much time playing partisan politics, instead of working to find solutions to the real problems facing our families."
OK, that's not too bad right? He's right. Congress does sit around with their fingers in their ass worrying about ruining sports by taking out the drugs and pissing around about whether or not they should feed some brain dead fugster like Terry Shiavo. However, lets get to the real issue.
Four seasons with the Redskins and the Saints.
Starting only 22 games
15 touchdowns
33 interceptions
Christ, 33 interceptions? If the Redskins and the Saints couldn't trust this guy to run their crappy teams then why should the good people of North Carolina trust him to be their representative in the big cluster fuck that is the US congress? He also has a brother named Benjie. That's not a brother, that's a fucking dog. It's not even a sports playing dog like Air Bud. Just useless. North Carolina should elect a proven winner who is both sneaky and tough. A man that doesn't take shit and could put pussies like
Brian Baird
into a figure four leg lock. Bitch, leave my meth alone WOOOOOOO! That's right. I'm talking about mother fucking Ric Flair.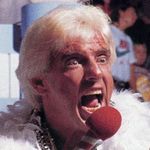 16 world championships.
WOOOOOOOOOO!

How many other congressmen do you know that would actually sneak a set of brass knuckles in his tights? Sean May could also run but he's too fat.