Shawn Bradley sucks always. This along with photosynthesis is a scientific fact. The announcement of his pending retirement was a great day for all of mankind. I always assumed that everyone agreed on Shawn Bradley being the biggest waste of space this side of Women's American soccer. I guess this was one of those rare occasions where I was wrong...
People actually want to retire his number.
Yeah, that Shawn Bradley. Yeah, I don't get it.
Here's a quote from their plea to Mark Cuban.
We, the loyal fans of the Dallas Mavericks Basketball Club were heartbroken a few weeks ago when Shawn Bradley announced his pending retirement. We would appreciate it if Shawn's number, 44, were retired. It would be a classy gesture to one of the elite centers of our time. Shawn put in 8 and a half good seasons for us and it has been our pleasure watching him dominate in the paint.

Elite center? If by elite center you mean instant highlight reel dunk for guards then you're right. Shawn Bradley has had more facials than Kobe Tai. Paco suggested that we send that 7'6'' useless ass to the glue factory but I think he'd be better served as a prop for the slam dunk contest. I'm sure Jason Richardson and Tracy McGrady would agree. I'm not going to pretend that Shawn Bradley hasn't had a good game or two. Hell, he lead the league in blocks back in 2001. He also had a monster 22 points, 22 rebounds, and 13 blocks against the Trail Blazers back in 98. Hell, they were a play off team that year. Of course, they were all probably higher than... well, Team Wilco but that's besides the point. However, for every 2 decent things that Shawn Bradley did, he did 80 god awful atrocities against humanity. Maybe the Hussein family had something right when they were torturing their athletes that under performed. If you see this petition, don't sign it. If somebody tries to get you to sign it, kick them in the balls and call them a witch. We shall rally together and set that person on fire. I'll bring the marshmallows.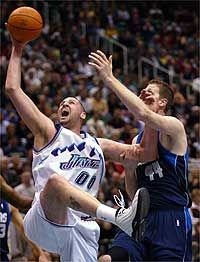 Ostertag and Bradley battle over
the "lamest white guy" award.
I just wanted to add that some douchebag at Duke's Original Roadhouse was bitching about the "cry baby me me dirty players" in the NBA. He also sang the praises of the purity of baseball. I'm not going to pretend that the NBA isn't filled with megalomaniac thugs with too much money but you can't hold baseball up as the "golden child". There is more cheating in one game of baseball then there is in an entire season of the NBA. This week, Sportscenter has been nothing but dirty baseball plays and who's a bigger dick head than Kenny Rogers right now? He makes TO look like Mr. Rogers. You know, when Mr. Rogers wasn't touching all the neighborhood kids in the butt hole while visiting the land of make believe. I don't want people to think that I'm bashing baseball though. I've been watching it more often lately and I've been enjoying it. I've also been doing more acid.