Man, that was the gayest title I've ever used.
I'm happy that this series is going to game 7. I always get really depressed at the end of basketball and football season. I normally end up in a fetal position, sucking my thumb, and listening to shitty songs about teenage angst while carving "free me" into my arm.
I would like it if this game was in Detroit because I know those sickos are just waiting to blow up their city. I was living in San Antonio the last time they won the championship. Those lame asses only screamed "woooo" from their car. When the Mavericks finally win one, and they will I don't care what you say Grandma you bitch, I don't know what I'm going to do. I do know that it'll involve angel dust, fire, and a girl scout troop.
The upside to not having the final game in Detroit is that I don't have to see Kid Rock's stupid face. I swear he looks more and more like my white grandfather everyday.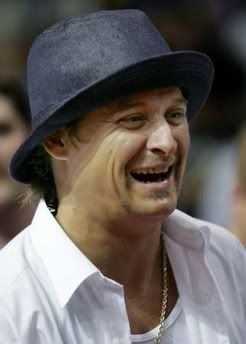 YAAAAAAAAAAY I LIKE BASETBALL
YAAAAAAAY!!!!!


Oh, and all you stupid Spurs fans, and people that claimed to be spurs fans, that told me that the pistons were going to get swept.... well, aren't you fucking stupid? To my cousin Robby, who I know reads this, how dare you switch teams half way through. I know it was you Robby. You broke my heart. You broke my heart...