Kenny Rogers is a dick head, according to local news and radio. His actions of late seem to confirm this. I should probably add, before I get more into this, that I don't watch a lot of baseball. I do watch Baseball Tonight every once and a while and I seem to be able to fake a baseball conversation. So, I'm probably speaking out of my smooth Asian ass.
ARLINGTON, Texas -- Kenny Rogers' angry close-up with a couple of television cameramen put one of them in the hospital and could result in a suspension for the Texas Rangers' ace.

Rogers shoved two cameramen before the Rangers' game against Los Angeles on Wednesday in a videotaped tirade that included throwing a camera to the ground and threatening to break more.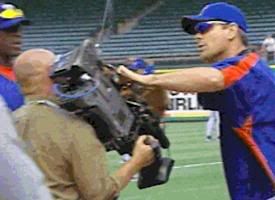 "Don't get me angry....
you won't like me when I'm angry...
KENNY SMASH!!!"

"Kenny is having anger issues right now," Rangers general manager John Hart said. "I don't know what's going on inside. We're responding to something that's very unusual."

Rogers, who missed his last start with a broken pinkie he sustained during an outburst earlier this month, lashed out at the cameramen as they filmed him walking to the field for pregame stretching. He wasn't scheduled to pitch and was sent home by the club following the incidents.
You can click that link I just gave to see the video of the incident. It's pretty interesting to see. He's been under the scrutiny of the media here lately and he's been upset. That's completely understandable. I don't have people following me around at my job, reporting everything I do to everyone in the world. I don't have people on radio stations shitting all over me for the things that I do... well, sometimes I do.... If had that then I'd probably grow angry and bitter too. And Honestly, who hasn't wanted to push a camera man around? The problem seems to be that Kenny Rogers was so deliberate with his actions. It was a little more than a quick outburst of sudden rage. He had a sudden rage when he broke his pinkie finger while punching a water cooler earlier this month. I know it wasn't his throwing hand but what the fuck? Take care of your hands for Christ sake, you're a pitcher. You can kick Chan Ho Park to express your anger. He sucks and kicking him might be worth the ridiculous salary he makes. Let us not act like we haven't done anything stupid in a quick fit of frustration. The broken pinky incident seems to be the cap on Rogers' rage. His inability to pitch in a game against the Angels, a team that raped the rangers recently, had people questioning his work ethic. I would be super pissed too. I want to punch anybody that calls me lazy. For some of us, our work is our passion and to question the passion of a man is like questioning his man hood. I'd be forced to cut out your heart and eat it for strength. When you consider how I would have handled this, it could have ended up a lot worse.
If Kenny is having "anger issues" then I suggest he pick up a relaxing hobby. I suggest he try sewing. Gordon Liu did in "Fist of the White Lotus". He was able to use that and acupuncture to defeat the chief of the White Lotus. Just think about how many cameramen you can beat down, Kenny. Maybe you could go back to singing country music. Those people are always rational and cool headed.
On the long list of awesome Rangers moments, this has to be underneath Nolan Ryan beating the shit out of Robin Ventura. It's still pretty awesome though.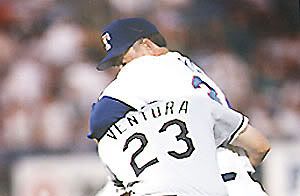 Robin Ventura might have been the best College Player of the 80s
but I'll still remember him only for this.